Admiralty Digital Radio Signals (Vol 6) Overview:
Admiralty Digital Radio Signals Volume 6 provides maritime radio communications information for pilot services, vessel traffic services and port operations worldwide. More than 3000 service locations are updated quickly and efficiently via email or CD every week. Now accepted in place of the paper version by a growing number of flag states. It is sold as one of the programs available within the Admiralty Digital Publications package. You can buy as many programs in the package as you need, as and when you need them.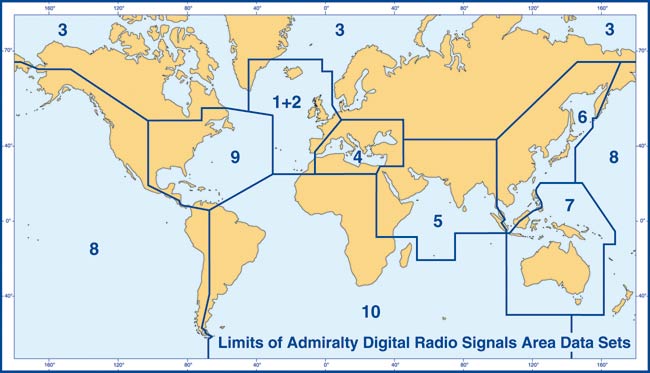 Area data sets
Areas 1 and 2 - UK & Northern Europe (Die Ems to Gibralter)
Area 3 - Northern Waters, the Baltic & Germany
Area 4 - Mediterranean & Black Seas
Area 5 - Red Sea, the Gulf & Indian Ocean (Northern Part)
Area 6 - Singapore to Sea of Okhotsk & Philippines (W Coast)
Area 7 - Australia, Borneo and Philippines (E Coast)
Area 8 - Pacific Ocean, New Zealand, N & S America (W Coast)
Area 9 - North America (East coast) and Caribbean
Area 10 - South Atlantic & Indian Ocean (Southern Part)
Recommended Minimum Requirements
The ADP applications will run on any PC meeting the Microsoft recommended minimum specification for the following operating systems:

Windows 2000 (SP4 + SR1) Intel Pentium II or compatible 300 MHz or higher processor, 64 MB RAM (4 GB maximum), 2 GB of available space.

Windows XP (SP3) Pentium 233 MHz processor or faster (300 MHz is recommended), 64 MB RAM (128 MB is recommended), 1.5 GB of available space.

Windows Vista (SP2) 1 GHz 32-bit (x86) or 64-bit (x64) processor, 1 GB RAM, 40 GB hard drive with at least 15 GB of available space, Support for DirectX 9 graphics with: WDDM Driver, 128 MB of graphics memory (minimum), Pixel Shader 2.0 in hardware, 32 bits per pixel. Flag State Approvals

Windows 7 1 GHz or faster 32-bit (x86) or 64-bit (x64) processor, 1 GB RAM (32- bit) or 2 GB RAM (64-bit), 16 GB available hard disk space (32-bit) or 20 GB (64-bit), DirectX 9 graphics device with WDDM 1.0 or higher driver.

Operating systems should have the most recent Service Pack installed.

In addition, systems will require; CD-ROM or DVD drive, keyboard and a Microsoft mouse or some other compatible pointing device, super VGA (800 x 600) video adapter and monitor.

Admiralty Digital Publications may be installed on any networked or standalone computer that meets the hardware recommendations for the operating system installed, but is designed to be registered to individual PCs and is not suitable for operation across a network.

Please contact us for specific coverage & pricing.