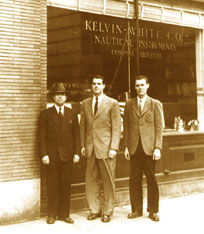 Captain John Hart, center, purchased the Baltimore branch of Wilfrid O. White & Sons in 1957, changing the name to Maryland Nautical Sales Inc.
Captain Hart was born and raised in Baltimore. At the age of 11, he quit school, sold newspapers and worked in a drugstore. While attending Polytechnic Institute at night, he worked in a machine shop and as an usher at the old Century Theater.  He first went to sea in 1931 aboard the Merchant & Miners Transportation Co.'s SS Chatham, as a cadet and quartermaster making the run from Boston to Miami. Within four years, he had been certified as a third mate by the Coast Guard and had earned master's and pilot's licenses.
In 1935 he was injured in a lifeboat accident aboard the Chatham, he went ashore and sold insurance for the Acacia Life Insurance Co. until 1940. He briefly worked as a rigger at Maryland Shipbuilding & Dry-dock Co. before returning to the sea as third mate on the SS Roanoke.
In 1941, he became the assistant to the outfitting superintendent at Bethlehem Steel's Fairfield Yard, where he also served as a deck officer and compass adjuster on the original Chesapeake Bay trial trips of 383 Liberty ships -- with the exception of the SS Patrick Henry, America's first Liberty -- built and launched at the yard. In 1944, he left Bethlehem and became third mate aboard the SS Westbrook Victory and the next year, took over as captain and pilot of the Cataract, a Baltimore Fire Department fireboat.
He left the Cataract in 1948, and became a full-time compass adjuster when he joined Wilfred O. White & Sons, Nautical Instruments & Chart Agents, on Water Street in Baltimore.
Wilfred O. White and Sons has a rich nautical history. Wilfred O. White, the company's founder, came from a shipbuilding family that dated back to 1600 England. Born in Melbourne Australia, Mr. White came to the United States in 1898 and married Ruth Eldridge, the daughter of George Eldridge, who charted the first tide and current tables in U.S.
Although Captain Hart started as a compass adjuster, he showed a quick grasp of the retail business. In 1957, he purchased Wilfred O. White & Sons, which he renamed Maryland Nautical Sales Inc.  He became a government chart agent for ships that came into port and had more than 12,000 charts that covered the entire world in stock.  Captain Hart continued adjusting compasses as well.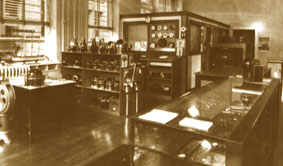 Although Capt. Hart started as a compass adjuster he showed a quick grasp of the retail business, expanding Wilfrid O. White and then Maryland Nautical Sales' inventory.
In 1975, Captain Hart sold the company to William Bridges and his son, William Jr., who continued the operation of the business at the downtown location until 1986, when it was bought by Robert and Brian Davis, who moved the operation to Hull Street in the old Port of Baltimore neighborhood of Locust Point.
In 1993, Maryland Nautical (and its affiliates, Davis Ship Service, Inc. and The Davis Group, Inc.) moved four blocks to its present location on E. Clement St. - 7,000 sq. ft. facility with additional storage, parking and an expanded showroom.
Continuing as a supplier of worldwide charts and publications for NOAA, NIMA (Formerly DMA), Canadian Hydrographic Office and the U.K. Hydrographic Office (British Admiralty). Maryland Nautical was granted its "International Admiralty Chart Agent" status by the U.K.H.O. in 1999 and in 2014 were appointed print on demand agents for British Admiralty charts. Currently Maryland Nautical has four chart printers on site allowing them to fulfill large orders in a timely fashion.
On August 9, 2014, Maryland Nautical Sales was audited onsite by the Independent Certification Body IMSM and certified to the ISO 9001:2008 standard. Their procedures, processes, sales and management practices were thoroughly reviewed and assessed and found to be fully compliant with the requirements of the ISO Standard.  Maryland Nautical Sales has the distinction of being the first US-based chart agent to be ISO certified.