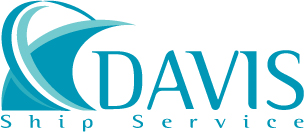 1400 E. Clement St. - Baltimore MD 21230
Tel: 410-625-2672  Fax: 410-625-2677
Toll Free: 866-631-6117
Email: [email protected]
Davis Ship Service offers many support services to the vessels calling the Port of Baltimore. Our company and its affiliate Maryland Nautical Sales, Inc. work directly with ship owners and agents providing a full range of products and services during vessel operations. From ship spares, cash to master deliveries,  laundry service and foreign garbage removal there is nothing we can't handle.
* Ship Spares *
- Delivery of Deck & Engine Supplies

- Import/Export

-Chart Deliveries/Courier Service

- Logistics Services

- Freight Forwarding

- Regularly FedEx & UPS pick ups   

- 3,000 sq. ft. Warehouse & Storage Space

- Bonded P/U & Delivery

- Palletizing & Crating
 Davis Ship Service is centrally located in the Port of Baltimore serving as a hub for incoming and outgoing ship spares.  Whether they are needed onboard for urgent repairs, arranging spares in transit from multiple origins or landing spares to be sent out for repair. We continuously track shipments and vessel arrival/departure keeping the vessels, agents and ship owners up to date to ensure a timely delivery to the vessel. We have two forklifts, stake body truck, cube truck, two cargo vans and two SUV's. We are capable of palletizing, banding and crating on site. Our drivers are DOT Compliant and HazMat Certified. We possess a bonded Cartman's License, are a registered Federal Motor Carrier and are bonded and insured.   We are in close proximity to Baltimore/Washington International Airport (BWI 1305) which is our airport of choice for importing and exporting. We have the ability to handle shipments at Dulles, Newark, JFK and Philadelphia Airports.
For more information on sending ship spares to our warehouse click here.
* Foreign Garbage Removal*

~ U.S.D.A. Certified Foreign Garbage Haulers

~ All garbage must be bagged in USDA Approved 4 mil. bags.

~ We will not accept hazardous materials, expired medications,   pyrotechnics or dunnage.

* Laundry Service (Off Site) *

~ Laundry is picked up from the vessel on arrival to allow time for cleaning and return in a timely manner

~ All Laundry must be bagged, loose laundry will not be accepted.
* Bonded Payroll Deliveries *
Visit Davis Ship Service on the web at