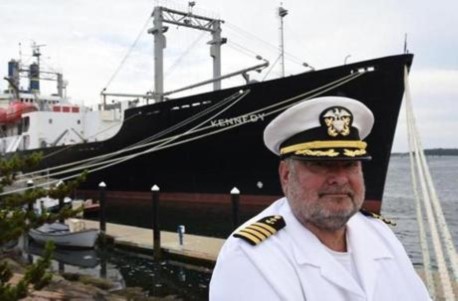 Many professional mariners know "The Murphy Books" – the series of books that comprise "The Deck Officer Study Guide" for USCG license exam preparation. However, not so many of us know about Captain Joseph S. Murphy II, the man who "wrote the book." A Master Mariner and instructor, Joe is regarded as the expert on license exams and USCG questions by thousands of mariners, including instructors from Maritime Academies across the US.
Captain Murphy holds an Unlimited Masters License, and has sailed as Master on various tankers and LNG vessels. He is a member of the International Organization of Masters, Mates & Pilots.   He also served as the Vice Chairman of the Merchant Vessel Personnel Advisory Committee (MERPAC) for the U.S. Coast Guard for at least two terms, and is an authority on license exam structure and procedures.
After 20 years at sea, Joe came ashore in 1984 to instruct at the Massachusetts Maritime Academy, bringing his wealth of experience to the classroom. Joe notes that teaching is a skill that doesn't necessarily come with being a Captain, but which he found immensely rewarding. As an instructor of Cadets training to be Merchant Mariners, Joe realized there was no comprehensive textbook to cover licensing exams, so he assembled an expansive collection of study guides for his Cadets. His colleagues at Maine Maritime asked to buy these guides, which soon became so popular that Joe founded the Academy Publishing Company in 1989 specifically to meet the publication requirements.
 Captain Joe Murphy's "The Deck Officer Study Guide" series is now used at all US maritime academies, and a number of license exam schools as well. The series is known as "The Murphy Books", especially to the 3000 Cadets who were instructed by Captain Murphy at Mass Maritime. The books contain the actual USCG questions and answers released by the National Maritime Center (NMC), covering General Deck Seamanship, Navigation, Rules of the Road, Safety and Lifeboatmen. The books have been regularly updated as NMC released new database questions, and will be re-organized in 2019 to accommodate the planned changes in the USCG exam licensing module structure and resultant test banks.
While "The Murphy Books" are hard-copy volumes, Captain Murphy also has an electronic option for license preparation called LAPWARE (Licensing Advancement Program Software) and available at www.lapware.org.
Captain Murphy remarked on his strong relationship with the Davis family at Maryland Nautical Sales (MNS), who've carried "The Murphy Books" in their store for over 15 years.