Compass Repair
COMPASS REPAIR/SERVICES
NAVIGATION BEGINS WITH THE RIGHT COMPASS
When properly sized, installed and compensated a marine compass is the most important instrument on any boat. It will provide accurate, trouble-free heading references under the most adverse conditions without relying on electricity, radio signals or satellite communications. The most important criteria when selecting a compass are dial size and mounting style. Quality components aid accuracy, smooth response, stability and trouble-free operation. Although the size and shape of Ritchie Compass models may vary, this cutaway engineering illustration is representative of the modern technology that makes Ritchie Compasses the World's Best Marine Compasses.
1. COMPASS DOME
The dome provides clear and accurate magnification of the dial. Our domes are made exclusively for Ritchie using a heavy-duty, optically clear polymer.
2. COMPASS BOWLS & HOUSINGS
Bowls and housings are made from brass, or high-strength glass reinforced polymers.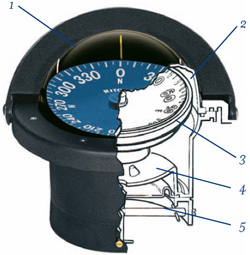 3. GIMBAL SYSTEMS
All Ritchie Compasses are engineered to operate normally within their environment without bottoming out due to the pitch and roll or heel of the boat. An internal gimbaling system is most often applied to provide this important function. This illustration shows the bi-axis gimbal system used in many Ritchie models. This dial assembly is suspended by Gimbal Rings and Pans formed from ultra lightweight aluminum and held in place with spring loaded brass pins. A Brass Counter Balance keeps the entire system level.
4. FLUID BAFFLE & ROLLER DIAPHRAGM
Baffles reduce turbulence in the dampening fluid. Diaphragms allow the fluid to expand or contract with changes in temperature or pressure without forming bubbles.
5. CORRENT OR MAGNETS
Deviation occurs when something on board your boat draws the compass magnets away from their attraction to the earth's magnetic field; i.e. masses of iron, engines, electric motors, electronics with speaker magnets, batteries, electronic instruments, tachometers with magnets, engine controls, steering wheels and electric appliances. All Ritchie compasses that are intended for use on boats that could have deviation problems have built-in compensators. These compensators are non-interactive magnets that are balanced and optimally spaced for accurate correction. Compensation instructions are included.
A. RICHIE DIALS
Dial measurements are given in the apparent visual size. Models are available in sizes from 2" (5.08cm) to 6" (15.24cm) in diameter. In many models you can select either a Traditional Flat Card or Direct Reading Dial. The CombiDial™, which is both a flat card and direct reading dial in one, is also available in several Voyager, Helmsman and Navigator models.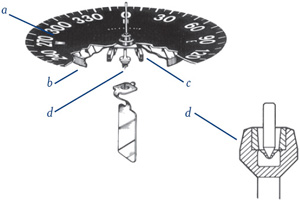 B. POWDER DAMP ® PERFORMANCE
Each dial is engineered to provide the ultimate in steady, smooth performance and easy readability. Traditional Flat Dials are equipped with Ritchie's race proven PowerDamp® system, a lightweight baffle that eliminates spinning and dial jumping at high speeds and in rough conditions. Direct Reading and CombiDial™ dials are formed so that their shape also provides PowerDamp performance.
C. DIRECTIVE FORCE ™ MAGNETS
Ritchie uses special High Gauss Magnets that are field balanced and matched to each compass model, dial style and size. They are attached to the underside of the dial in pairs matched to seek and lock on to magnetic north. This provides superior accuracy and smooth, rapid response.
D. PIVOT AND JEWEL MOVEMENT
All Ritchie Compasses use a Hardened Steel Pivot and Triple Cup Sapphire Jewel Movement. They are microscopically matched to provide smooth dial operation and fast lock-on, under the most severe conditions. There are no plastic pivots or jewels in Ritchie Compasses.