History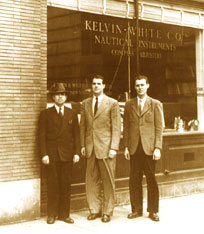 Captain John Hart, center, purchased the Baltimore branch of Wilfred O. White and Sons in 1957, changing the name to Maryland Nautical Sales, Inc.
In 1931 at age of 17, John Hart went to sea for the first time, making the run from Boston to Miami for Merchants and Miners Steamship Co. After 18 years, including a stint as the master of a Liberty Ship during World War II, Captain Hart came ashore and began putting his seafaring expertise to use. And what he started at Wilfrid O. White and Sons in 1949 grew into Maryland Nautical Sales, Inc. which today is one of the largest chart agents in the United States.
Wilfred O. White and Sons enjoys a rich nautical history. Wilfred O. White, the company's founder, came from a shipbuilding family that dated back to 1600 England. Born in Melbourne Australia, Mr. White came to the United States in 1898 and married Ruth Eldridge, the daughter of George Eldridge, who charted the first tide and current tables in U.S.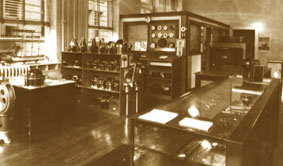 Although Captain Hart started as a compass adjuster, he showed a quick grasp of the retail business, expanding Wilfred O. White's and then Maryland Nautical Sales' inventory.
In 1975, Captain Hart sold the company to William Bridges and his son, William, Jr., who continued the operation of the business at the downtown location until 1986, when it was bought by Robert and Brian Davis, and moved to Hull Street in the old Port of Baltimore neighborhood of Locust Point.
In 1993, Maryland Nautical (and its affiliates, Davis Ship Service, Inc. and The Davis Group, Inc.) were moved four blocks to its present location on E. Clement St. - 7,000 sq. ft. facility with additional storage, parking and an expanded showroom.
As a supplier of worldwide charts (corrected up-to-date) and publications of the U.K. Hydrographic Office (British Admiralty) since 1987, Maryland Nautical was granted its "International Admiralty Chart Agent" status by the U.K.H.O. in 1999.